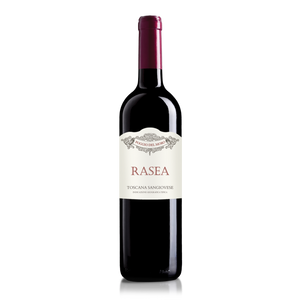 92 Points - The Tasting Panel "Deep garnet color, lush and bright, juicy and tangy with a base of lively acidity; silky and smooth with soft tannins and spice, enduring and fresh."
Anyone who would like to feel an authentic Tuscan terroir, nestled in the hills of Siena – land of the Etruscans, will enjoy RASEA 100% Sangiovese, sourced from our sand and limestone vineyards. This iconic wine of Poggio del Moro is no less, than a unique work of art, serving you the opulently exquisite blend only a pure Sangiovese grown in a truly large, rich terroir can. RASEA exhibits a soft, yet straightforward approach and at the same time is a timeless classic in its nuanced spices: dry tobacco, cinnamon and just a hint of roasted coffee beans.
All the mesmerizing, deep flavors are perfectly wrapped in a voluptuously elegant and refined framework of black cherry and raspberry. It reveals a graceful balance on the ripe and complex palate, contributing to the wine's particular, noble tone. Firm tannins embody the tremendous earthy crescendo that broadens out and evolves, as the wine delicately unfolds, lingering on a long, luscious finish. You could easily fall in love with this ornate, luxurious wine. Exceptionally well-priced, it is ready to thrill and inspire you and should continue doing so for about ten to twelve years.