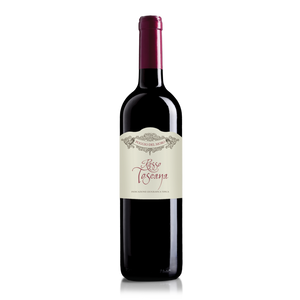 93 Points - James Suckling "A pretty red with plum and berry character, as well as spice and chocolate. Rich and powerful with lots going on. Full-bodied and juicy."
The best grapes of Poggio del Moro vineyards are blended into this dry red wine to broaden the incredible taste and build on the full, mosaic mouthfeel. The intense vivid purple colour of the vintage ROSSO TOSCANA convinces from the very first glance. The blend of Sangiovese, Merlot, Cabernet Sauvignon and Syrah conveys a fruity-forward complexity to the nose, which unfolds with violet floral notes well-layered with cherry and plum jam, along with the mineral graphite, musk and a hint of black pepper.
ROSSO TOSCANA shows a profound, luring consistency and a medium body palate with fresh, praiseworthy ripe juicy flavours wrapped into plum tannins. Tobacco, tealeaves and black cherry linger on a powerful, yet harmonious finish. It's a rich, supple, reserved wine that embodies the time-honoured Tuscan terroir and at the same time is very modern, due to a flawlessly balanced performance between the fruitiness and oak in the mouth. ROSSO TOSCANA promises to evolve gracefully over the next 5 – 8 years.
Goes perfectly with red meat and Mediterranean kitchen.
Best served at room temperature.